5 tips for navigating a Salesforce World Tour event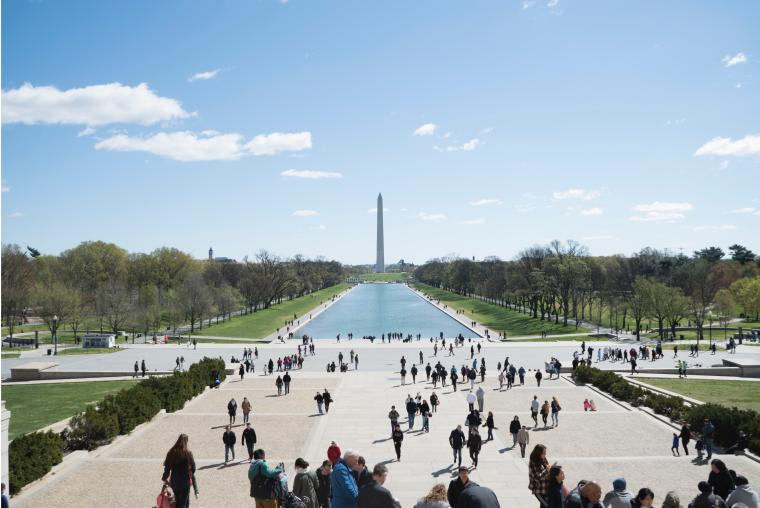 Last Tuesday, April 4th, we hit the streets of Washington D.C. to explore the Salesforce World Tour: DC (think Dreamforce, but regionally-focused). This year the event was smaller than usual, which provided a better atmosphere to connect and find the people and sessions relevant to us.
What is a Salesforce World Tour?
Most Salesforce events focus on creating buzz around the high-level ideas that the technology company is working on and World Tours are no different. This year there was a lot of discussion around the new Lightning interface, artificial intelligence, and the customer journey.
There were many options to learn how to better use Salesforce. There was even a smartphone app to help you plan your day. This was really helpful as sessions overlapped and you could find yourself bouncing around to different sessions all day. Thankfully there was plenty of food and drink to keep everyone nourished and hydrated.
Who are Salesforce World Tours for?
We find these events are best for people using Salesforce on a day-to-day basis. With high-level topics and lots of opportunities to see and hear how other organizations use Salesforce, this event doesn't get into the technical aspects of using Salesforce. Most system administrators and end-users in Marketing, Sales, or Development departments would find the Salesforce World Tour events helpful. On the other hand if you are a developer, you'd probably get more out of a more technical regional event like Tahoe Dreamin'.
To help you get the most out of attending a Salesforce World Tour, here are our top tips based on our experience at the DC World Tour.
1. Pick a session and then a backup session.
You want to get the most out of the sessions you attend. With some of the titles being deceiving, you should always have a backup session you can attend in case the topic isn't what you thought it would be. And don't feel bad for the speaker if you do walk out - they want you to get the most out of it too! Our favorite presentations were led by a customer, rather than Salesforce: there's nothing like personal experience.
2. Find your party.
Salesforce events are known for having great after-hours networking events. There are tons of great parties thrown by Salesforce partners and communities such as the nonprofit Power of Us Hub. There are almost no networking opportunities by day, so save energy and prioritize going out at night if you want to really make the most of being in the same city.
One person we met even said "it's nice to be surrounded by like-minded tech people" as she is usually surrounded by lawyers and economists. The after-hours events are great for helping you find the Salesforce users just like you.
3. Grab the speaker's contact information.
With a mad dash to each session, it can be hard to connect with the presenters. We've found presenters love to connect with people and have a one-on-one chat later. Snap a picture of their contact information or grab a business card and ask them to connect over a bite to eat or a drink later in the day.
4. Take pictures of presentations.
Not all presentations are made available after the event. And with all the chaos of being at a one-day event, it can be hard to remember pertinent information. Feel free to snap a picture of key slides and grab contact information for follow up questions.
Here's a picture we snapped during a presentation by National Geographic on their journey to implementing Salesforce.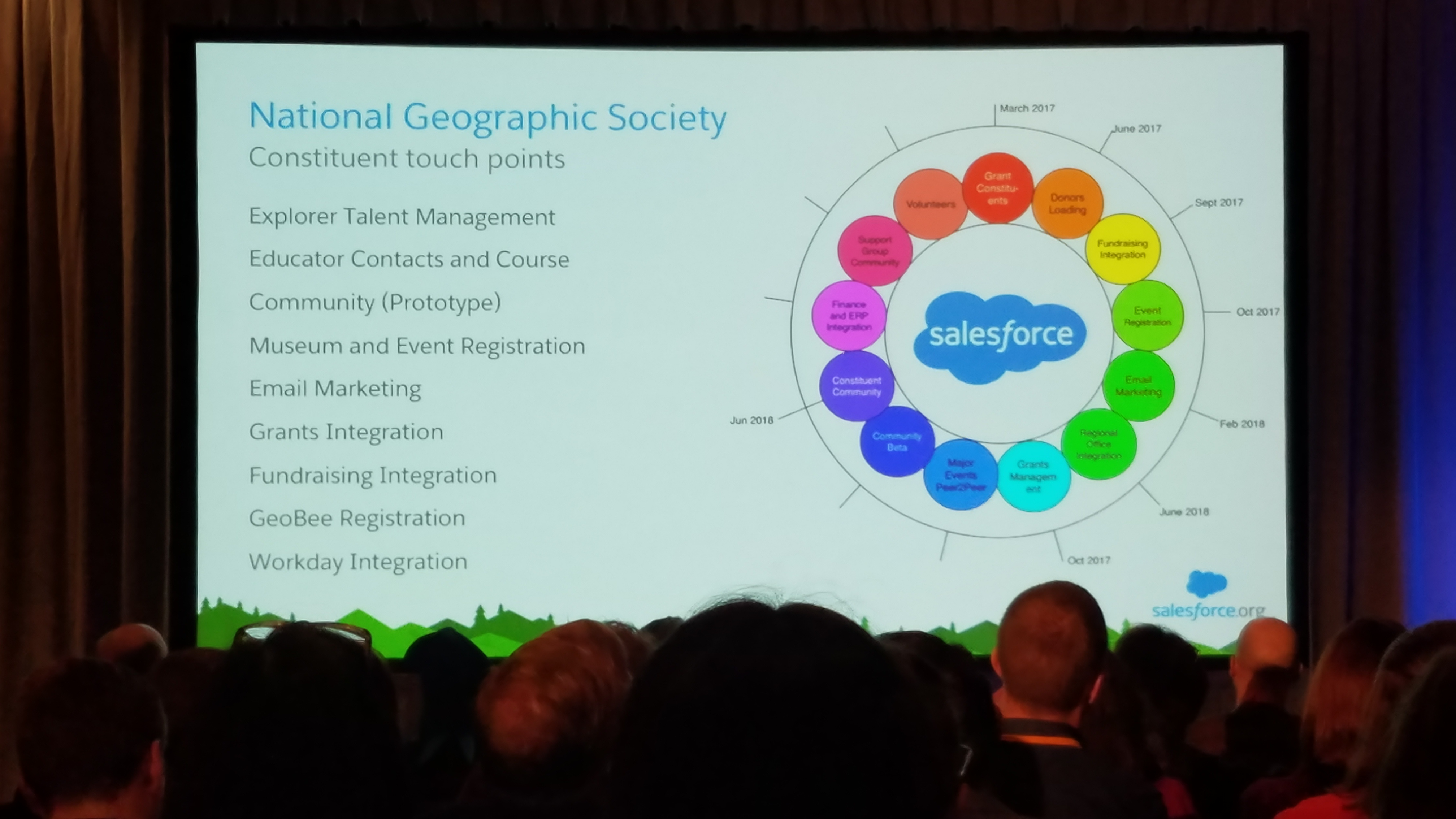 5. Don't be afraid to get demos.
There are a number of solutions at these events, all offering ways for you to take Salesforce farther. Take advantage of the smaller venue. so you can really get a feel for solutions that can potentially help your organization.
There's a World Tour coming to my city, should I go?
If you are a Salesforce user who wants to get inspired and meet other users, the answer is a resounding yes. We have a soft spot for smaller Salesforce events focused on local communities, and if you can't justify a Dreamforce trip or just want to get a quick immersion into what's new and exciting with Salesforce, you will benefit from attending a World Tour event. With a little advance planning (and a well-charged phone) you can navigate everything with ease and remember all the innovative ideas you learned.
Looking to learn more about Salesforce and how it can help your organization grow? We'd love to chat with you.