Tax Receipts, Board Reports and More: Generating Documents from Salesforce with Conga Composer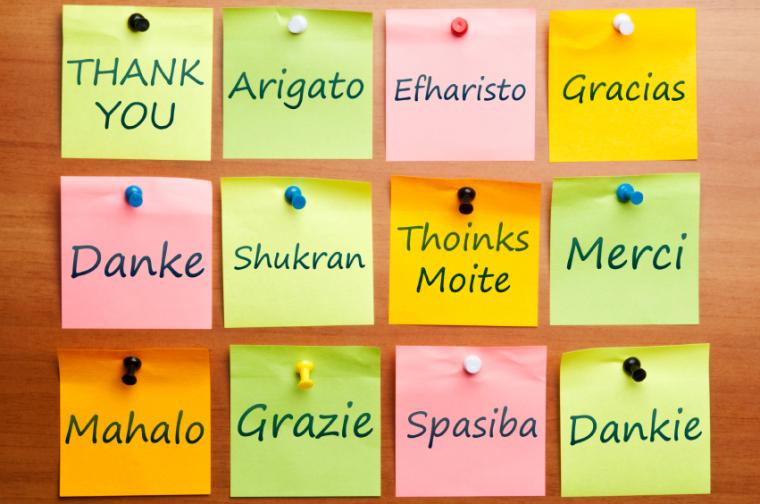 Today's guest partner post comes from Robert Boyd of Conga. Conga is the developer of the Conga Suite of document generation and reporting applications for Salesforce.
One of the biggest organizational benefits of adopting Salesforce is the consolidation of everyday business processes to a single platform.  With all your data in one place and Salesforce being the flexible, malleable tool that it is, opportunities to have the organization "do that in Salesforce" start to pop up all over the place as user adoption grows.  However, over at the Conga ranch, we've learned an important lesson over the years about using Salesforce to consolidate information within an organization:
Creating Documents with Salesforce Data Ain't Easy
For many nonprofit organizations, interacting with a donor base is synonymous with creating and sending customized documents.  Thank you letters, campaign summary reports, tax receipts and quarterly newsletters are often important touch points for engaging with members, donors, and stakeholders.  Wouldn't it be awesome to have a tool that makes it quick and easy to create and deliver all those crucial documents exactly when, where and how you need?
We asked ourselves the same question in 2006 and were determined to make it happen.  Conga Mail Merge was our first application – originally designed for the nonprofit community, Mail Merge creates large batches of letters, labels, and envelopes all at once to make the creation of print mailings from Salesforce powerful, quick and easy.
Conga Mail Merge vs. Conga Composer
"But wait," you're probably thinking, "this post is supposed to be about Conga Composer!"  Don't worry; I haven't gotten off track yet.  The original Conga Mail Merge was the inspiration for Conga Composer, currently the most popular document generation and reporting solution on the Salesforce AppExchange.  Nowadays, Mail Merge is included with Conga Composer as a free add-on and the two apps provide an effective "one-two punch" for Salesforce administrators and consultants to satisfy just about any document-generation requirement under the sun.
The two tools are designed to meet slightly different requirements.  Rather than creating batches of letters, labels, and envelopes, Conga Composer allows you to create more robust individual output files that:
Are populated with a wider range of data
Can be distributed via email, sent for eSignature, stored in Salesforce or sent to another content management system
Can be in a variety of file formats – Word, Excel, PowerPoint or PDF forms
 
Put Those Apps To Work!
But enough background, let's dig into three common use cases for Conga Composer and Conga Mail Merge that give us a more concrete sense of how and why they're such powerful tools:
 
1. Batches of Thank You Letters – Conga Mail Merge
Let's say we have around 1000 Household records that need to be sent a thank you letter at the end of each year that details each Household's giving history.  By creating a Salesforce Report that shows all Households with Donations and then filtering for Donations with a Close Date in the current year, we can use Conga Mail Merge to create letters, labels, and envelopes for every Household included on our report.  Each letter will provide details about all of the Donations made by that Household over the course of the year.  The output might look a little something like this: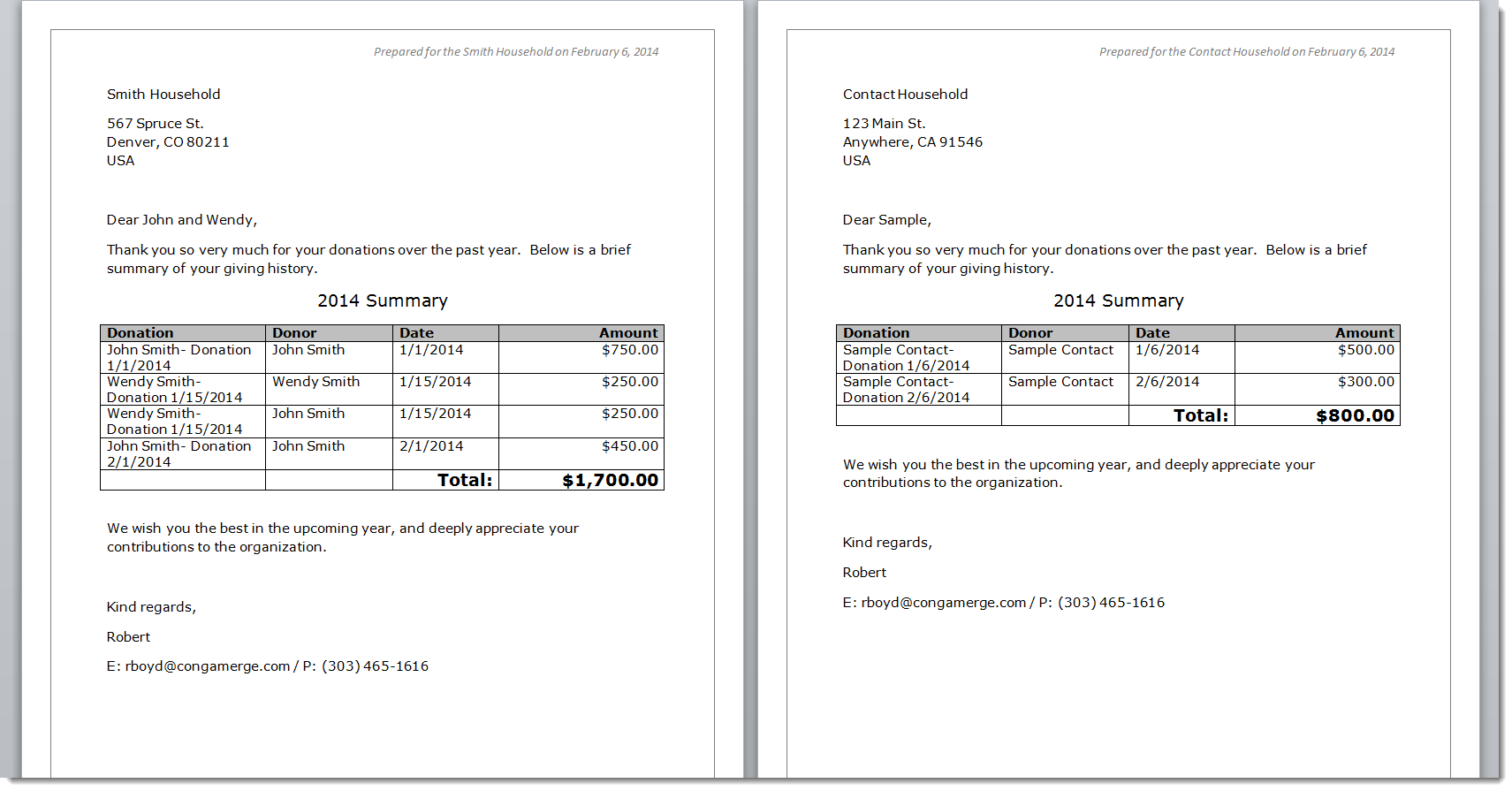 And if we want to create labels and envelopes at the same time, the output looks like so: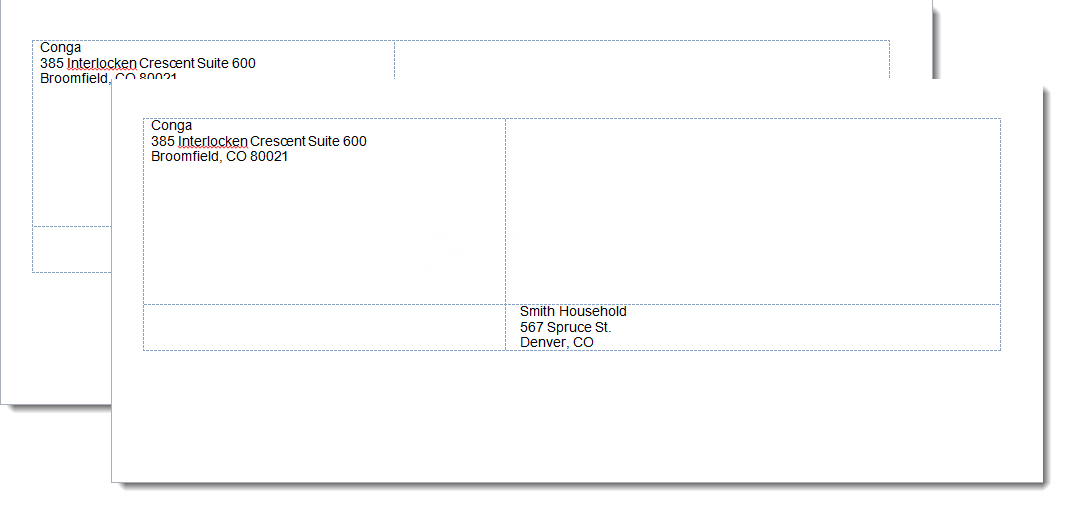 Boom!  I only used a subset of records for these screenshots, but we could now use this same Conga Mail Merge solution to create hundreds of letters, labels and envelopes whenever we need.  The original source report is dynamically filtered (just Households with Donations that have a Close Date in the current year), so this same solution can be used over time and still produce documents with up-to-date data.
2. Single Donation Receipt – Conga Composer
The previous solution is great for batch-creation of letters that typically follow some sort of schedule, like an annual donation summary letter.  However, it's crazy to think that we'd wait until the end of the year to acknowledge an individual donation with a receipt!  That type of transaction is typically handled immediately on a donation-by-donation basis and receipts should be created on demand.
For this solution, we would create a custom button or link on the Donation (Opportunity) object to launch Composer.  When Composer is run from an individual Salesforce record, it's able to gather data about the specific record where the button is clicked, but can also access related data through the use of reports or queries.  For individual receipts, gathering information specific to our Donation record is exactly what we need.
We could use this solution to create donation receipts using a Word template, but use Composer to convert the output file to a PDF.  To really bring it full circle, we can use a Conga HTML Email Template that's also populated with data from our Donation record, attach the PDF receipt to an outbound email and send it to our donor immediately.  Our output letter might look something like this: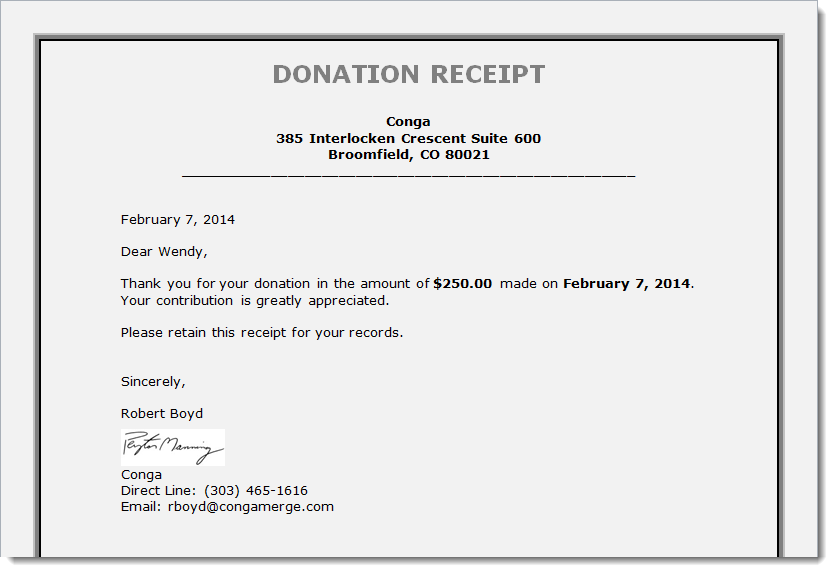 Note: The signature image in the receipt was merged dynamically from Salesforce.  It's Peyton Manning's signature, but that image was pulled right out of my demo org and merged into the document.
3. Internal Board Reports – Conga Composer
A requirement we often see for Composer is the need to create internal reports that gather data from all over Salesforce to create things like board reports, executive briefs, quarterly growth summaries, etc.
Composer fits this need quite nicely because it can use dozens of Salesforce Reports or SOQL queries as data sources for merging.  I like to think of this as "feeding" data to Composer.  With good nutrition, a Composer solution can quickly grow to produce data-driven output that effectively summarizes entire segments of your Salesforce environment.  You'll be such a proud parent/administrator!
Let's say we want to create a board report that summarizes all the fundraising coordinated by an organization over the past two years, breaks down revenue by donation type and includes a chart for a visual comparison of year-to-year giving history.  We could certainly do this by creating a few different Salesforce reports, creating a dashboard or report chart and regularly exporting all of the above into an Excel file for further formatting and manipulation to get it ready for recurring board meetings.  But to paraphrase a popular internet meme, "ain't nobody got time for that!"
A few Salesforce reports and some formulas in an Excel template are the basic ingredients for this solution.  With just three reports and a single template, you can produce something like this: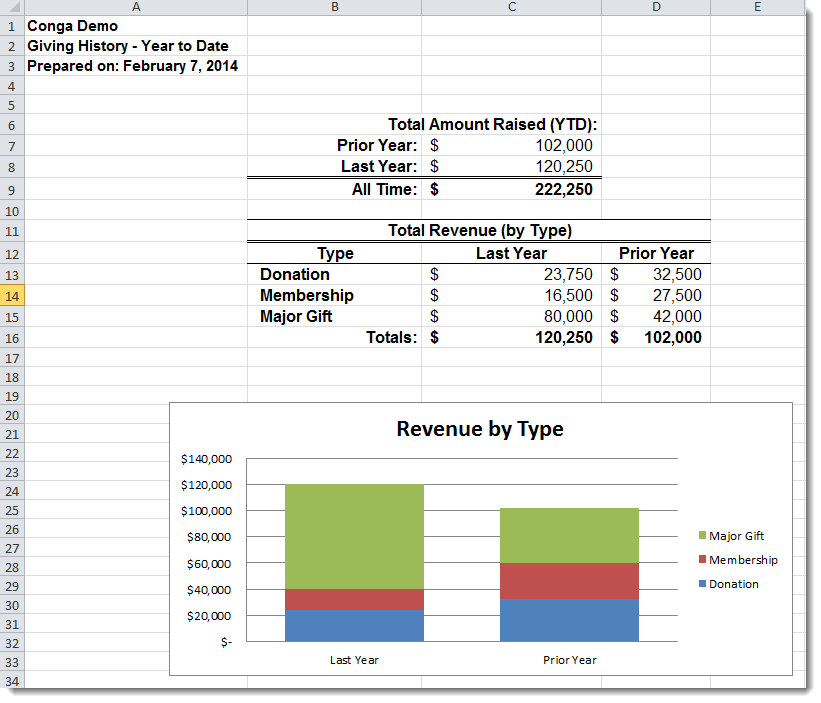 Imagine what could be created with a Composer solution that uses more than three reports as datasets!  You could track campaign performance, trends in the size of your donor base, group donations by state or region – all in one spreadsheet.  And best of all, Composer can create these types of documents on demand with a single button click.  That kind of efficiency is what Composer is all about.
These were common example use cases, but if you'd like to see how the New York State Health Foundation creates grant letters 60 times faster (no, that's not a typo) with Conga Composer, check out the case study.
Finally, if you're with a nonprofit organization that's just getting started with Salesforce, I want to leave you with a quick word of advice.  Being successful with Conga solutions requires a solid understanding of your own data structure within Salesforce, some familiarity with creating reports and a good handle on any custom configuration that's been done in your Salesforce instance.  Idealist Consulting offers an incredibly cost-effective 2-day online training course called 'Salesforce Basics for the Accidental Admin' for just $85.  You simply won't find other Salesforce training at that price point, so I highly encourage any aspiring or accidental administrators to check it out. It's a great value, even if you're not planning to join the Conga line.
Thank you very much for reading, and I want to extend a big shout out to the folks at Idealist for being gracious enough to let me commandeer their blog for a day.
Are you looking for more information on putting together your CRM dream team? Chech out our whitepaper on creating a budget and proving ROI below.